Is it possible that you wonder about the title of this entry--you don't understand the connection between attorneys and pool parties? The truth is there is none--I just want to talk about both right now. One because it is a semi-update on the real purpose of this blog--defeating bureaucracy and getting to Italy--and the other because it involves the focus and center of our lives--Casey, or KC depending on the day.
Business first: All that has happened in the saga since the lovely interaction with the scintillating and encouraging LA Consulate is that we have contacted our attorney here--the one who represented us in the guardianship issue, and
Signore Giovanni Papperini
--an Italian attorney in Rome who specializes in expat concerns and issues. He comes highly recommended by Cristina, the moderator of the Expats in Italy board and friends who needed his services with their visa difficulties. Since, according to his site, his offices work with General Motors, Toyota, Michelin and other equally small entities, the euro signs are just popping up like fireworks in my ever active imagination.
It will be interesting to see what these two officers of the law have to say. I guess one possibility is that they will tell us just to pack it in but, I hope not. I choose to believe that Papperini is a true Italiano who knows how to move within the mysterious labryinth of Italian law. And--I have confidence in our attorney here that he will know exactly how to approach the court in such a way to get what is needed.
So that is all that has happened on that front..
Oh--not quite so. I forgot the uplifting news and reminder that good friends are a treasure not to be taken for granted. Opening my e-mail today was a message from one of my most favorite people--Nico (see his charming visage on the May 20th entry) of Montepulciano.
have been to Chiusi questure police station - imigration to talk about your situation.
Massimo will help with the car.
Frabrizio must get back to me with the rental. Infact I have now made a note to call him on Monday.
Lets get an action plan done - what do you think?
With a friend like this, it is hard to get discouraged. It's like handing out hope. If you are in the area of Bagno Vignoni in Tuscany, it is well worth your while to include his restaurant
Il Leone
in your itinerary for a wonderful dinner. If you do this be sure to tell him that Jane and Ken say hello--maybe you'll be treated to a special after dinner libation. Now I will need to make certain he reads this so that he'll know what to do!
On to Casey--my most favorite subject of all because he is such a gift from God and blesses us richly and continuously.
Before regaling you with his Little League pool and barbecue party here yesterday--where we cavort with our new peer group of parents of 1st graders, let me share with you a cute story about him.
A friend of ours (60+ years) had strep throat last week and so, in his bedtime prayer, Casey prayed with great concern:
Dear Jesus, please take care of Mr. Park's neck. I know it's heartburn because I have had heartburn three times. So please take it away.
Sure enough, Mr. Park was fine the next day--actually, I'm not certain about that but it makes such a good ending.

Dear Jesus--Praying in duomo in Ortygia, Sicilia


OK--Pool Party Time
Casey has been a Padre this year--playing at the Rookie level. For those of you not familiar with the world of Little League this is the division where the boys and girls have live pitching for two innings and then a pitching machine for the last four. Fortunately for all concerned, the games have a 2 hour limit or we wouldn't be the only old folks at the end of the season.


Love the Form! He's a right handed batter!


This is a lot better--end of season!


To our great disappointment, the season is coming to an end--whatever will we do with our time? Maybe reconnect with our friends in the older crowd.

What I am finally getting to is that yesterday we hosted a swim/barbecue party for the team, including grownups and siblings. A new rendition of the old challenge of how many people can fit into a phone booth--or a Volkswagon Beetle was born right here in our backyard--how many kids can fit into a small, pool side jacuzzi?

The answer is--enough to displace all the water so that the patio and barbecue area is totally flooded and a slipping, sliding menace to life and limb. This is accompanied with so much whooping and hollering that we thank God for tolerant and deaf neighbors.


This is half of the number that was there! But what fun!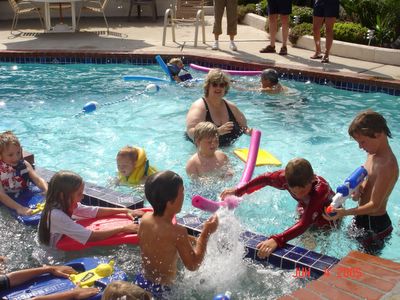 Kids having fun--What joy!



When our four children were growing up and playing sports a lifetime ago, I assiduously avoided such things as being Team Mom--just not my thing; although, I did go to games and root for my darlings, but being a mother hen just wasn't me. Guess what I was this year? Yep--you're right, halfway. I was assistant Team Mom. And the kids all called "Casey's grandma" whenever there was reason to get my attention. It seems that after years of seeking my identity, I have now fully lost it. Who am I? Obviously you need to find the 6-year-old to find the answer.

So-the sunshone, trophies were presented, assistant team mom was presented with a lovely bunch of flowers and nice gift, the pool was emptied of liquid and all slept as never before when heads hit pillows last night. And---Ken and I felt as if we had done something really special for our special boy.