Casey, the student


What makes an education? This is a question we ponder these days as we struggle with Casey's needs in terms of 80+ years of life--what is best for him, what will have mattered the most in the third grade, trying to be honest and know when we are imposing our own desires and when we are seeking the best for him.
The question we are struggling with right now is what would be best-----a local Italian school or an International School? Clearly there are pros and cons on both sides. When we first started talking about doing this, we knew exactly what we wanted--Casey was going to an Italian public school so that he could live a different culture, learn the language, make friends, develop a view of the world that was not myopically patriotic to the exclusion of validating other nations and cultures.
We wanted to live in a village or town where he and we could make friends, develop a degree of comfortability, know and be known--and a place that was centrally enough located that we could have easy excursions into larger cities such as Siena, Florence, Rome. We wanted to find if the ambience that has permeated our trips there--some as long as seven weeks--continues when "living" there for an extended time--or is there a romance of short term visits that dissipates in the reality of day to day experience? Would we find that we are more inseparately attached to our life style in the states than we think? These things were our thoughts as, after a lot of talk over several years, we decided "to do it."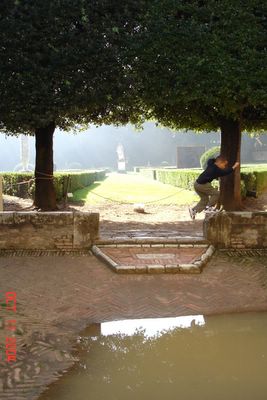 Casey enjoying the simplicity of the small town. Would this work?

But then, as we explored our thoughts with other people--especially both Italians and expats in Italy--we were given a different perspective. If we are going for just one school term, the language situation might be too much--not time enough to learn or settle in so he would remain an outsider the entire time. This certainly is not what we want--an unpleasant, unhappy experience and memory. Then--the other concern we have is the quality of what he will learn. If we put him in the International school of Florence, where he will be taught in English, he would continue his learning in the 3 r's and so would not fall behind his contemporaries here at home. Plus--he would be able to make and communicate with friends right off the bat. The other real plus is the experience of interacting with children from so many different cultures and countries--somewhere around 43 according to the school. Some of the negatives are that, although English speaking kids are given Italian instruction, from what I have picked up from other expats with kids enrolled, it is not enough to become anywhere near fluent. And--most importantly, he would not have the advantage we seek for him of living and finding his way in a different culture and country. So the dilemma continues for us. We become so limited in living location options with the International school. Rentals close enough to commute to and from school are much more expensive than other areas of Tuscany--and that is not the area we would freely choose to settle in given our druthers. Additionally, the school fees are not negligible--not at all. But---if that is best for Casey that is what we will do even though some of the other things we want are sacrificed. So, for now we struggle with this decision. Our hearts want him in an Italian school but perhaps our heads should rule. What do you think?
Casey and his science project. He was pretty proud!